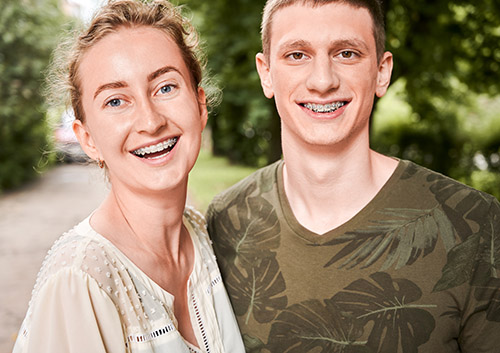 Did you know that there's a World Orthodontic Health Day in May? Or that National Orthodontic Health Month takes place in October? You may not have circled these days on the calendar—in fact, this might be the first time you've heard about them! But celebrating these special days is just one way that orthodontists share the health benefits of orthodontic treatment with us.
That's because orthodontic treatment is about more than creating a beautiful smile. With the help of Dr. Grey, you might also be creating:
When your teeth are aligned, it's easier to prevent tooth decay and gum disease. Crowded, crooked, or overlapping teeth make it harder to brush and floss as effectively. Plaque that builds up in those hard-to-reach places on the tooth enamel helps create cavities. And over time, built-up plaque turns into tartar, a leading cause of receding gums and gum disease. Straight, properly spaced teeth make efficient brushing and flossing a breeze!
A Comfortable, Functional Bite
A malocclusion, or bad bite, occurs when the teeth and jaws don't align properly. In a healthy bite, teeth aren't crowded, twisted, or spaced too widely apart. The top teeth should slightly overlap the lower teeth. And the ridges of your upper molars should fit smoothly with the grooves of the lower molars.
If your bite is off, you've probably noticed chewing pain, headaches, or jaw pain. Over time, malocclusions can lead to worn enamel, cracked teeth, and tooth grinding, and have been linked to mouth breathing, which dries out the mouth and isn't good for your dental health. Braces or aligners, with other appliances if needed, can not only correct a malocclusion, but prevent the very uncomfortable side effects of a bad bite.
Malocclusions affect facial symmetry. Underbites occur when the lower jaw is too large, while small lower jaws can cause serious overbites. Bite problems can mean overjets (also called "buck teeth"), or open bites (where the front teeth don't touch when the mouth is closed). Crossbites result in one or more upper teeth fitting inside the lower teeth. These conditions can affect both facial balance and profile.
With the use of braces and appliances like palatal expanders, Herbst® appliances, or headgear, Dr. Grey can guide jawbone development while a child's bones are still growing. For older patients, we can design a treatment plan to align teeth, correct malocclusion, and improve facial symmetry.
We can't forget the invisible benefit of orthodontic treatment: a happy, comfortable smile is a great confidence-booster! If you're reluctant to share your smile with the world, a visit to Dr. Grey can let you know just what to expect from treatment, and just how it can improve your life.
Because it's so important to both our dental health and our overall well-being, we're happy to celebrate orthodontic health on special days throughout the year. And let's also celebrate the fact that there's no calendar deadline when it comes to scheduling a healthier smile! Whether it's early treatment for younger children to guide jaw growth, or the common orthodontic treatment window during the teen years, or adult treatment to create the smile you've always wanted, help is available at our Bothell, WA office whenever you're ready to set the date!