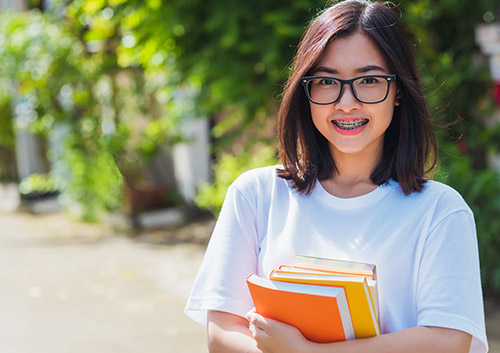 If Dr. Grey and our team recommend a Hawley retainer to complete your orthodontic treatment, you're getting a classic. This retainer, invented by Dr. Charles Hawley, has been in use since the early decades of the twentieth century.
But this isn't your great grandmother's pink plastic retainer! The look of today's Hawley retainer has really evolved from its early days as the "Hawley bite plate"—and pink is now a choice instead of an inevitability. In fact, you can choose from any number of colors, patterns, and designs to create a retainer that is uniquely you.
Each Hawley retainer is customized to fit your mouth and teeth perfectly. Wire clasps and a labial bow wire are securely attached to an acrylic base based on a model made from your teeth and mouth.
Your retainer is designed for function—the bow wire makes sure your teeth stay in the perfect position while your bones and ligaments get strong enough to hold them in place. The acrylic base, of course, is also functional—but that doesn't mean you can't have fun with it!
Retainer bases can be formed in different ways. One type of retainer model uses pre-formed acrylic discs for the base, and these are available in many pre-formed colors and patterns. Another type of retainer builds the base by alternating several applications of liquid and powder acrylics, layer after layer. This process allows the retainer technician to create one-of-a-kind designs.
What are some of the ways to make your retainer uniquely yours?
Color—whether deep tones, pastels, electrics, neon, or metallic, you can find an appealing shade in the color chart. Or, if you want your retainer to keep a low profile, choose a clear or a color-coordinated pink tone.
Glow in the Dark—if you don't want your retainer to keep a low profile, this might be just the look for you!
Glitter—accessorize your sparkling smile with a sparkling retainer.
Patterns—stripes, polka dots, geometric shapes—even animal patterns are possible.
Color Combinations—why choose one color when you can have a marbled swirl of your favorites? Or a tie-dye look? Or team colors?
Acrylic Designs—a colorful design that captures your personality is available with some creative acrylic artistry. Rainbows and flags, hearts and flowers, ladybugs, and spider webs are just some of the options on hand.
Picture Perfect—for that special hobby, pet, team, or other personal favorite, decals or pictures can be applied under a layer of clear acrylic.
Hawley retainers are made to last, so choose your design with years of use in mind. Talk to our Bothell, WA team about the custom looks which are available to celebrate your unique personality. After all, there's nothing more personal than your smile!