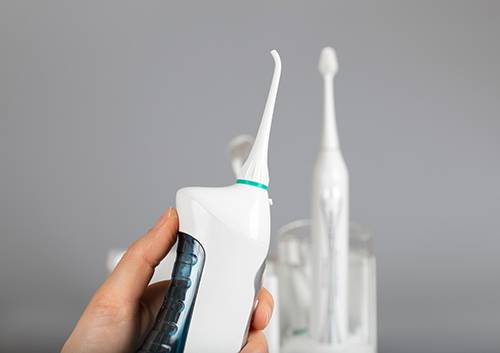 You devote a lot of energy to your orthodontic treatment. Appointments, rubber bands, adjustments, cleaning (so much cleaning)—and why? Because you know that your attractive, healthy smile will be well worth the effort.
But if you find that keeping your teeth and braces clean requires more time and energy than it should, and you're still not getting the results you'd like, a water flosser might be just the tool you need to help make your cleaning routine easier and more effective.
Plaque and tartar can be a real problem when you wear braces. Cleaning around braces and wires can be a challenge, and it can be difficult to get floss between your teeth and close to your gums, even with special threaders or floss designed to slip behind your wires.
But ignoring bacteria and plaque build-up can lead to cavities, weakened or discolored enamel, and gum problems. Fortunately, a water flosser can help wash away food particles, bacteria, and plaque even in tight, hard-to-reach spaces, while providing gentle cleaning along sensitive gums.
Water flossers use a pulsing stream of water to remove food particles and plaque between and around teeth. You can adjust the water pressure to apply just the right amount of cleaning power, and then direct the flow to your gum line, between your teeth, around your brackets, or anywhere else you need. Some models even offer tapered heads with brushes designed specifically for cleaning braces.
You might consider investing in a water flosser if you have:
Mobility issues. If you have joint or mobility issues, a water flosser will let you clean those hard-to-reach areas more easily.
Lingual braces. Because lingual braces are on the inside of the teeth, they can be more difficult to clean effectively with regular brushing and flossing.
Problems removing plaque. If you find that you are brushing and flossing regularly, but still have plaque build-up around your braces, give water flossing a try.
A beautiful smile is well worth all the time and effort you are devoting to it. If you think a water flosser might save you a bit of that time and effort, and provide better cleaning power, talk to Dr. Grey about your options during your next visit to our Bothell, WA office. We'll let you know if traditional flossing, a water flosser, or a combination of the two will give you your cleanest, healthiest smile.