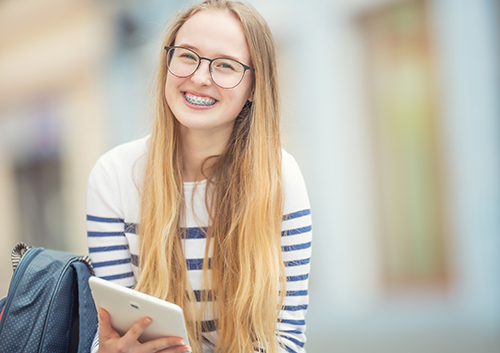 No matter how careful you are, accidents can happen. Perhaps it's a slice of apple that was a little bit larger than it should have been. Or you were chewing on your pencil while you were trying to work out an algebra problem. Or you tried a piece of candy that your friend really, truly thought didn't have a caramel center.
No matter the cause, when something's wrong with your braces, you know it. And you want to fix it as soon as possible. What can you do to make yourself more comfortable? And which repairs are best left to orthodontic professionals?
First things first. If you have been injured, and suffered a trauma to your mouth or jaw that has damaged your braces, we want to make sure that you get any medical attention you might need before we worry about your appliance. Call Dr. Grey, and your doctor, immediately if you have suffered a medical or dental injury.
Even if your braces are the only injured party, you might need a special appointment if the damage is something that shouldn't wait and can delay your orthodontic progress. Broken wires, brackets that have fallen off, and loose orthodontic bands, for example, need to be replaced in our office.
But what about minor problems? First, call us to see if it's something that really is minor, and whether you can do some home repairs to keep you going until your next regular visit.
One of the most common—and most annoying—problems is a broken or out-of-place wire. If a wire end is poking you, dental wax can be applied to the loose end to protect your cheeks and gums. If that doesn't work, we can let you know how to apply gentle pressure to move the wire away from delicate tissue. Don't try to cut a broken wire or remove it without talking to us—small pieces can be swallowed accidentally. We'll give you suggestions for how to handle a broken or loose wire and protect your mouth until you can see us.
If your bracket becomes loose, this is another good reason to give us a call. Brackets are specifically placed to let your archwire guide your teeth where they need to be. Without a firmly bonded bracket, the wire isn't doing you much good! If a loose bracket is irritating your cheeks or gums, you can try a bit of dental wax to stick it in place and cover hard edges until we can re-bond it. If the bracket comes off all together, bring it with you to your next appointment.
Spacers are little rubber bands we put between your teeth if we need to create some room between your molars before you get your braces. They have a tendency to fall out after several days. We'll let you know if their work is done, and you're ready to start your orthodontic treatment. If you lose one of your ligatures, those colorful bands around your brackets, give us a call and we'll let you know if replacement can wait.
We're happy to help you with any braces problems, large or small. It's best to check with us for even small fixes to make sure you avoid injury. Larger repairs can be handled in our Bothell, WA office—and we can give you tips on how to prevent future ones. Accidents happen, but they don't need to delay your progress toward a beautiful, healthy smile.