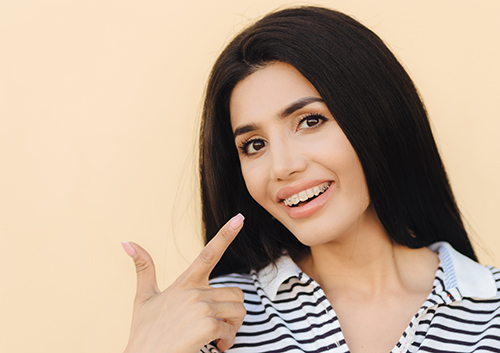 If you are a student of Speech or Drama, you know how important it is to be clear and articulate. You've worked on pronunciation and projection, and the audience in the back row can understand every word.
And now you've gotten braces, and, suddenly, you don't sound quite like yourself. Why? And, more important, what can you do?
Many patients see no change at all in their speech after getting braces. With some orthodontic conditions or appliances, you might have problems pronouncing certain sounds, but these changes in articulation are usually quite temporary.
Why Are You Sounding Off?
Every consonant is formed in a precise way as tongue, lips, and teeth work together. If you have brackets and wires in the way, or just got a new retainer, or have a set of aligners, you might find that your articulation is a little off, especially for sibilant sounds such as S's and Z's. Luckily, we humans are a flexible bunch, and it usually takes a very short time for our tongues and mouths to adapt to orthodontic appliances and return to normal pronunciation.
If your speech is affected at first because your lips and cheeks are sore or sensitive after getting braces, take time to take care of yourself! Use wax as often as needed to cover irritating brackets and wires, eat foods that are low in salt, spice, and acids, and follow your orthodontist's instructions for taking care of your mouth. You should start feeling better within a few days, and should be fine after a week or two. If pain or discomfort persists, call your orthodontist.
If you want to speed along the process of getting back to your normal pronunciation habits, practice! Read aloud, sing along to your favorite songs, recite lists of words with the specific sounds you want to work on. Oddly enough, to get back to your normal speech more quickly, slow down. Thinking before you speak is never a bad idea, and, in this case, thinking while you speak can help you position your tongue and mouth to verbalize tricky sounds more easily.
You don't have to be a national debate champion or the world's most blood-curdling Lady Macbeth to be concerned about clear speech. Talk to Dr. Grey during your next appointment at our Bothell, WA office if you find you are having problems with pronunciation. Whether your appliance needs an adjustment, or you need a few suggestions for speech exercises, or it's simply a matter of time, soon you'll be back on the road to perfect pronunciation—and on the way to your perfect smile.